Down on the Farm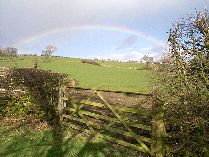 It was a natural progression for Peter and Joyce Hebson and their son Martyn to convert their 330 acre Town End Farm to organic production in 2000.

Their 110 cow pedigree traditional British Friesian Stardingham milking herd, some of which are crossed with British Hereford and Angus bulls to produce prime beef, was already being run along as natural lines as possible.

"It's just the way we want to farm," say the Hebsons, who welcome cottage visitors to look around the farm and explain the various activities to them, providing children are supervised by adults.

The land runs next to the River Eden and fly-fishing is available for two rods, please ask for details.